I've had a lovely birthday so far, complete with a free peppermint white mocha from Starbucks, pedi/mani/eyebrow waxing (c/o Bobby), and lots of love from friends and family. But I'm
really
getting excited for tonight's dinner festivities and to finally get into that
sexy teal dress from Kiyonna
!
Since I won't likely get outfit or other fun pictures posted until tomorrow, I thought I'd share a few things I'm hoping to get for my birthday and/or Christmas! (Oh, the joys of being a late December baby...)
Hey Jade Necklace - Modcloth
As we all know, I love a
statement necklace
. This one reminds me of one
Kendi has
and wears often, and I know I could get equal wear-time out of it. T'would be a great pop of color for nearly any outfit!
Women's Alleyne Pump - Samanta (via Amazaon)
Oh perfect red shoes, how you allude me so. When I think about my already
ridiculous
overflowing collection of footwear, the one basic missing is a pair of beautiful, all-season, all-occasion red pumps, ones that still scream "Jessica!" With their true red color and unique top-stitching and cut, I'm convinced these are they. And they come in my size (11) and then some (up to 14)!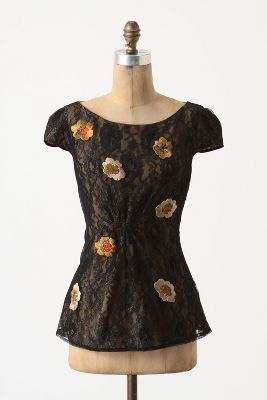 Antique Magnolias Blouse - Anthropologie
I don't know about you, but I'm always stalking the Anthropologie website, constantly putting favorites on my wishlist. Sometimes I get them, more often I don't. This top is one I keep coming back to. Utterly gorgeous, it's everything I love about the feminine, structured, unique pieces that Anthro offers, and I know I could wear it with everything from jeans to a pencil skirt. But, at $188, it's pricey even with my 15% off birthday discount. We'll be making an Anthro store trip (for returns) while traveling, so if they have this top I may just try it on, and I may either fall out love or even deeper into it. And then I'll hope for a gift card. =))
Buxom's Big & Healthy Lip Polish
is simply the best lip gloss ever. I don't like wearing lipstick, so these give the right amount of color and shine, and a fantastic tingle that even pumps up the lips a bit. I go through mine like water, whether by use or loss, so I shall always welcome more - a great stocking stuffer! My favorite shade is Sandy - a neutral pinky shade that's perfect dressed up or down.
Save The Earth Eco Fusion Porcelain Mug - Ruche
I'm an avid coffee
addict
drinker. Could there by any cuter - and eco-friendly - way to drink up? Also hoping to get my hands on the best of the best
Kona Fancy from Maui Coffee Roasters
. Or at least (more) Starbucks cards. =)
New England Patriots Women's Sweater Mix Jacket - Touch by Alyssa Milano (NFL Shop)
We're huge Patriots fans. Bob's East coast loyalties meets my (latent) Midwestern football sensibilities and kind of creates a monster - or at least a very pleased boyfriend. I love to wear team gear but want to still look cute while wearing it. Alyssa Milano's line of just such girl-pleasing apparel,
Touch
, hits the mark every time. I have a jersey, tee and a few tops already; I'm just wanting to round it all out with this fabulous zip-up.
I may be the last person to not yet have the new iPhone - or any iPhone, for that matter. Though I've had T-Mobile for as long as have had a mobile phone, my contract is up and I'm ready to jump ship and on to that bandwagon. Besides, after 7 years, I think it's time Bob and I get on a family plan, no?
That's not too much, right?? ; )
What's on all of your wishlists this season??